Största delen av helgens arbete utförs i workshopparna. Deltagarna kan välja mellan tre olika alternativ. Varje workshop leds av två personer, en från Sverige och en från Finland. Språket i workshopen är huvudsakligen engelska men deltagarna kan även använda antingen finska eller svenska.

De tre workshopsgrupperna arbetar med skilda frågor i relation till det övergripande temat "unga som fredsbyggare". Arbetet kännetecknas av interaktiva moment, diskussioner och föreläsningar av workshopledarna. Workshopledarna arbetar utifrån olika metoder som bl.a. rollspel.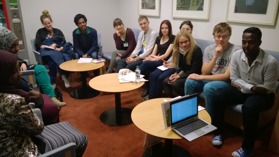 Du kan välja mellan tre tematiska workshops. Utöver den kommer alla få delta i en kampajnworkshop "Campagn Planning to Make the World Great Again"

. Under helgen får du också ta del av de övriga gruppernas arbete.

1.Radicalization of Youth: Preventing, Acting and Living Together
What does radicalization actualy mean, and what causes it? Is radicalization a good or bad thing? How do we recognize it? When does radicalization lead to violence?

Radicalization is a big word that is familiar to many from images of terrorism and violent extremist movements in far-away places. Radicalization takes place everywhere and has taken many forms throughout history, also in our societies. Radicalization has been a force for positive change in societies but also been a driver for some of the darkest events in our history.
While radicalization into violent extremism is not confined to any age, sex, group or community, young people are particularly vulnerable to the messages of violent extremists and terrorist organizations.
We invite you to join us for a workshop where we explore different forms of radicalization and ways to recognize them.

If you want to learn more and discover ways to be an agent for positive change and prevent violent radicalization, join us.

Facilitators: Felix Unogwu (SWE) and Milla Perunkangas (FIN
2.From war to lasting peace –the role of girls and women

A workshop on the role of girls and women in the process from conflict to lasting peace. What is it like to be a girl or woman in conflict, why does the number of child marriages increase during conflict and what part does sexual violence play? In order to build lasting peace the voices and perspective of girls and women need to be included.

The world and the United Nations have developed tools such as the 2030 Agenda for Sustainable Development and the UN resolution 1325 on Women, Peace and Security* to make sure that women's perspective are accounted for and that they are included in all parts of peace building. We have the tools and knowledge to create peaceful and inclusive societies but we still need support from all the people around the world to get there – what will your role be?

Join us, discuss and broaden your perspective on these themes and get the concrete tools to make a change!

*Don't worry if you have never heard about these – you will learn!

Facilitators: Linda Divkovic (SWE) and Noora Löfström (FIN)
4:Campaign Planning to Make the World Great Agai
Get the tools you need to create the change that you want. You will work on own campaign to push forward the issues you care about, craft a strategy on how to build power and create a mass campaign (don't worry – you don't need to come prepared).

This workshop will be provided for all participants.

Facilitators: Oleg Izyumenko (SWE) and Jonas Biström (FIN)