Globsol erbjuder ett intensivt tredagarsprogram bestående av Globforum, föreläsningar, workshoppar, diskussioner och fritidsprogram. Deltagarna arbetar och diskuterar utifrån tre perspektiv som hör samman med årets huvudtema.

Globsol startar med ett Globforum vars syfte är att introducera årets tema ur olika synvinklar och ge deltagarna idéer och verktyg för lördagens och söndagens workshoparbete. Både fredag och lördag består även av Evening Talks, middag samt kvällsprogram.

Globsols viktigaste del är det arbete som utförs i workshopparna. Varje workshop leds av två personer, en från Sverige och en från Finland. Språket är huvudsakligen engelska men deltagarna kan även använda antingen finska eller svenska. Under workshopar får varje deltagare en möjlighet att lära sig mer om ämnet utifrån ett specifikt perspektiv, vilket i år är mat, transport & resor samt mode.
Globsol 2018 - sustainable lifestyles
Bus transfer to Biskops Arnö

12.00 Lunch and practical information

14– 19 Globforum and getting to know each other

Opening remarks:
Annika Hirvonen Falk (SWE)
Member of the Parliament (the Green Party)

What will the future of sustainability look like:
Rebecka Carlsson (SWE)
Entrepreneur, climate activist and former political leader

19.00 Dinner and evening activities

8.00 Breakfast

8.40 Walk and talk (Logen)

09.00 Workshops

12.00 Lunch

13.00 Workshops (with coffee breaks)

17.00 Free time and creative challenge

18.00 Evening talk and snacks

19.00 Dinner
8.00 Breakfast

8.40 Walk and talk (Logen)

09.00 Workshops

12.00 Quick lunch

12.15 Presentation in the workshops
14.00 Check out and goodbye!

14.30 Bus to Cityterminalen
Globsol skulle inte vara något utan intressanta och spännande talare. Vi uppdaterar information och listan nedanför löpande.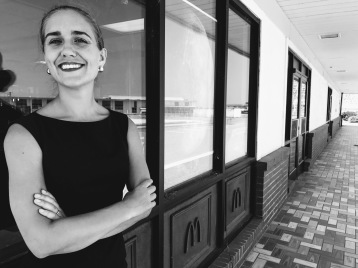 Rebecka is climate activist, entrepreneur and former political leader dedicated to co-create exponential sustainability solutions.

She was on the class of Singularity University's 2017 Global Solutions Program. For 12 weeks she lived with 90 scientists and entrepreneurs at NASA in Silicon Valley to learn how to use exponential technologies like AI, VR, Robotics, Nanotech and Biotech to create solutions with the potential to positively impact 1 billion people within 10 years.

She has founded several companies and organisations as well as served as:
Political Advisor to Sweden's Deputy Prime Minister and Minister for Climate and the Environment
National Spokesperson for the Young Greens and adjunct to the Swedish Green Party's national board
Strategist with Futerra Sustainability Communications
Sweden's official Youth Representative to the UN Commission on Sustainable Development
She has also participated in Globsol as a facilitator in 2013 and we are proud to have her back as a speaker.